il Flower show a Chelsea è un avvenimento per tutti gli appassionati dei giardini.
per l'edizione del 2012 viene presentato un insolito Lupino dell'America centrale: il lupino delle Ande con fiori un azzurro intenso.Esso costituisce un importante alimento per le popolazioni andine.
I semi si possono acquistare tramite il link sul Guardian. Su questo quotidiano si può seguire quasi in diretta il Flower Show.
The people behind the Chelsea flower show
As the gardening world readies itself for the Chelsea flower show 2012, we meet some of the people (and a dog) who will bring it to life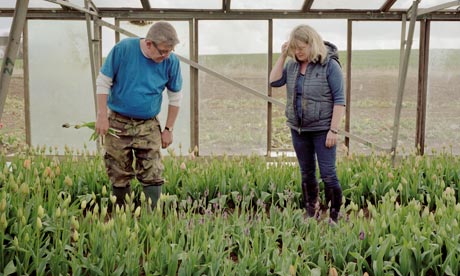 Tulip tenders
Even then, there is no way of knowing how they will fare once they are brought back to life. "You are never entirely sure until they come out of the chillers and are up on the show stand," Chris says.
Rare plant growers
The kennel model
Dewhurst is handling the PR for the garden, so when designer Jo Thompson suggested Cawdie could take up temporary residence in the garden, Dewhurst could hardly say no. She will be completing the patriotic feel by appearing alongside her dog in a red, white and blue 70s maxi dress. "Because he's a corgi and it's a show that the Queen traditionally visits, and it's the jubilee year, it seemed that he was the right dog to be there," she says. (Dog breed purists will note that Cawdie's a Cardigan corgi, while the Queen keeps Pembrokes, but that would be splitting hairs.)
Dewhurst is confident that Cawdie's laid-back personality will stop him from getting into too much trouble. "There's none of the nip talked about with corgis – he will be very relaxed and calm, and he won't go for anyone." Dewhurst will drive Cawdie from her home near Kendal in Cumbria to London tomorrow, ahead of his big day on Monday, Chelsea press day. Aside from his habit of howling at ambulance sirens, Dewhurst is wondering how she can entice the corgi into the kennel, a handmade affair boasting a green roof that channels rainwater into a dog bowl below. Her breeder recommended training using liver and garlic treats. On the other hand, perhaps it would be less risky for Cawdie to go on display with an empty stomach. As Dewhurst says, "A very practical farmer said to me this morning, 'You'd better starve him, hadn't you?'"